Happy birthday, Syd Barrett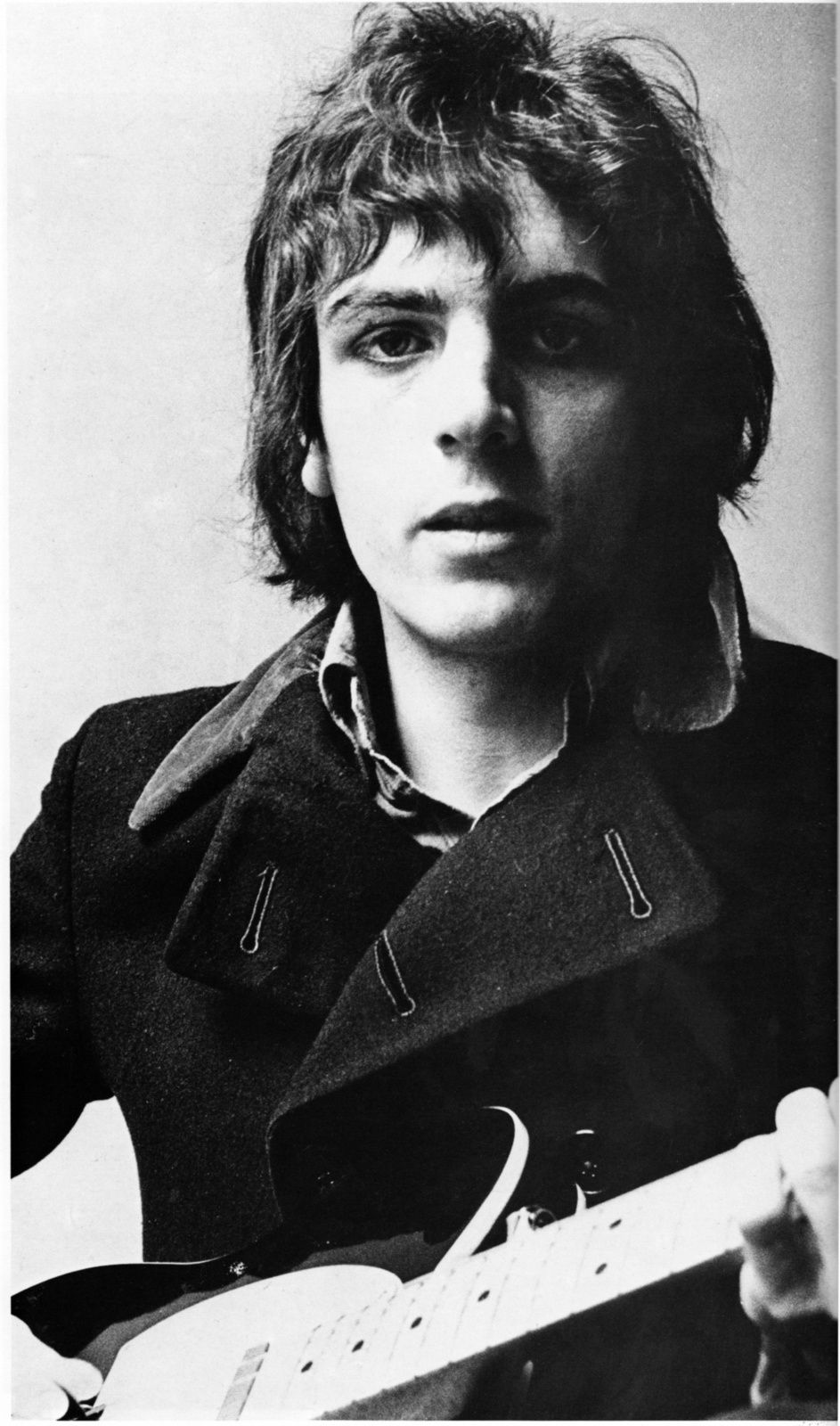 Syd Barrett, founding member of Pink Floyd (1968 Spring photoshoot) - credit: photographer unknown - source: sydbarrett.com
Happy birthday, Syd Barrett...
Born Roger Keith Barrett on January 6 1946 in Cambridge, England, Syd Barrett was a musician, singer-songwriter, and painter best known as a founding member of Pink Floyd.
As a kid, he would sometimes play the piano but mostly enjoyed drawing and writing. When he was 10, he got a ukelele and, one year later, a banjo.
He got his first guitar, an acoustic one, when he was 14 and he bought his first electric guitar the following year.
One month before Syd turned 16, in December 1961, his father died of cancer. His mother decided to support her son and the band he played in, Geoff Mott and The Mottoes, by allowing them to play in their front room, hoping it would help him recover from his pain.
Roger Waters, a childhood friend of Syd's, would often come watch the band perform.
In 1962, after entering the Cambridge Technical College art department, Syd met David Gilmour, another Cambridge Technical College student, whom he soon began to play guitar with during lunchtimes.
Later the same year and in early 1963, Syd became a fan of The Beatles and of The Rolling Stones, and began writing songs.
Formed in 1964, the band which would later be known as Pink Floyd went through several lineup changes and had various names such as The Abdabs, Sigma 6, The Meggadeaths... When Syd joined them in 1965, they were called The Tea Set, and, after yet another change of name, he proposed the name The Pink Floyd Sound, which later became The Pink Floyd Blues Band and finally The Pink Floyd (lineup: Syd Barrett (vocals, guitar), Bob Klose (guitar), Roger Waters (bass, vocals), Nick Mason (drums, percussion), Richard Wright (keyboards, vocals)).
The band mainly played rhythm and blues songs and they later began to receive paid bookings. In March 1966, while performing at the Marquee Club in London, they were noticed by Peter Jenner who, with his friend Andrew King, became their manager. They bought the band £1,000 worth of new instruments and gear and helped them become part of London's underground scene. Pink Floyd soon became known for their long instrumental parts and their use of coloured lights during their shows.
As time went by, they played less and less rhythm and blues songs and their set featured original songs written by Syd.
In 1967, the band signed with EMI, which released their debut single, Arnold Layne, on March 10 the same year. Although the song was banned by several radio stations because of its references to cross dressing, it still reached number 20 in the UK.
After the release of their second single, See Emily Play, in June 1967, Pink Floyd performed several times on BBC's Top of the Pops. It was also about that time that the other members began noticing changes in Syd's behavior. His frequent use of LSD made him start to distance himself from the band and everything else.
In August 1967, Pink Floyd released their debut studio album, The Piper at the Gates of Dawn, which reached number 6 on the UK charts. As the band's popularity kept on growing, Syd's state became more and more worrying. His mental breakdowns forced the band to cancel several shows, including their apperance at the National Jazz and Blues Festival.
While the band was on tour in the US, Syd's condition continued to get worse: sometimes, during TV appearances, he would not answer the hosts and just stare into space, and, while performing on Pat Boone's show, he refused to mime the singing of See Emily Play.
After rushing back to the UK, Pink Floyd supported Jimi Hendrix in England. Syd's poor performances during this tour made the other members decide to add guitarist David Gilmour to the lineup of the band and that Syd would only write for the band. Frustrated by this decision, Syd decided to write songs that would be impossible to learn for the other members. Not long after, they decided to fire him from the band.
Worried about how Syd would react to the news, the members of Pink Floyd waited before telling him that he was no longer part of the band and only announced it publicly in April 1968, although the decision had been made in late January.
After the announcement, Syd began working on a solo album but stayed out of the eye of the public. However, the recording of the album was interrupted in July 1968 after Syd broke up with his girlfriend and was admitted in psychiatric care in Cambridge.
Although he had not really recovered, he returned to the studio to finish the recording in early 1969. His former bandmates from Pink Floyd, David Gilmour and Roger Waters participated to the recording of the album, with David Gilmour playing the bass and Roger Waters producing some tracks.
The album, titled The Madcap Laughs, was released in January 1970.
Soon after the release of the album, Syd went on to record his second album, with David Gilmour as bass player and producer, Jerry Shirley on the drums, and Richard Wright on the keyboard.
The only show Syd played between 1968 and 1972, was at the Music and Fashion Festival at the Olympia Exhibition Hall on June 6 1970.
Barrett, his second album, was released in November 1970.
In February 1972, along with Jack Monck on bass and Twink on drums, and under the name The Last Minute Put Together Boogie Band, Syd played a few gigs in Cambridge. They then went on to form the short-lived band Stars. Their performances featured Pink Floyd songs written by Syd and songs from his solo albums.
Afterwards, Syd began to live in seclusion, most of his contacts with other people happening during his sister's visits or when he went to see his manager to collect his royalties.
In August 1974, his manager took him to the Abbey Road Studios to try to make him record a new album. After recording eleven tracks, Syd sold the rights to his solo albums to the label and decided to leave the music industry for good.
He stayed living in London for a few years during which bands, including the Sex Pistols and The Damned, tried to hire him as a record producer, without any success.
In 1978, Syd ran out of money and went back to live with his mother in Cambridge.
From this moment and on, he stayed out of the public eye, although fans and journalists sometimes travelled to Cambridge to try to find him. He went back to using his birth name, Roger, and spent most of his time painting and gardening. He had almost no contact with other people, his sister being once again one of the very few people he talked to. It was also said that he did not like to talk about his musical past.
His first interraction with public in years, and also his final, was in 2002, when he signed 320 copies of photographer Mick Rock's book Psychedelic Renegades, which featured several pictures of Syd.
As time went by, his health started to decline and he suffered from stomach ulcers and also type 2 diabetes.
He died of pancreatic cancer on July 7 2006, in his home in Cambridge.
In October 2008, the city of Cambridge held a series of events to celebrate Syd's life and art, The City Wakes.
Rock in peace, Syd Barrett!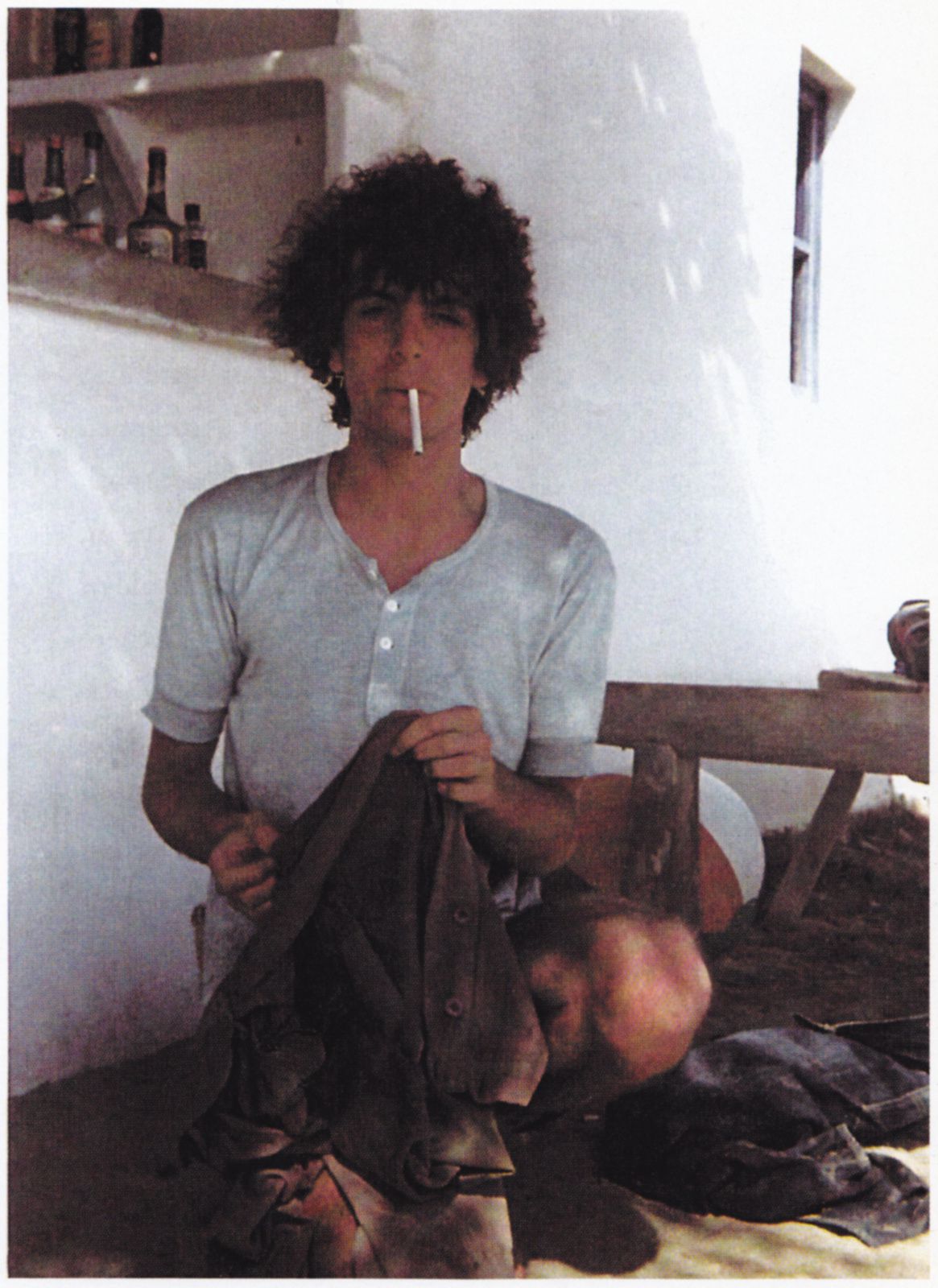 Syd Barrett (1969, on Holiday in Formantera) - credit: photographer unknown - source: sydbarrett.com
[ french version :
Joyeux anniversaire, Syd Barrett ...
Né Roger Keith Barrett le 6 janvier 1946 à Cambridge, Angleterre, Syd Barrett est un musicien, chanteur, auteur-compositeur, et peintre mieux connu en tant que membre fondateur de Pink Floyd.
Enfant, il joue parfois du piano mais préfère écrire et peindre. A 10 ans, il reçoit un ukulélé et, un an plus tard, un banjo.
Il obtient sa première guitare, une acoustique, quand il a 14 ans et s'achète sa première guitare électrique l'année suivante.
Un mois avant le 16e anniversaire de Syd, en décembre 1961, son père meurt d'un cancer. Sa mère décide alors, espérant que cela réconforterait son fils, de le soutenir ainsi que le groupe dans lequel il joue, Geoff Mott and The Mottoes, en les autorisant à jouer dans la maison. Roger Waters, un ami d'enfance de Syd, vient parfois regarder le groupe jouer.
En 1962, après avoir intégré le département d'art du Cambridge Technical College, Syd rencontre David Gilmour, un autre étudiant du Cambridge Technical College, avec qui il se met rapidement à jouer de la guitare durant l'heure du déjeuner.
Plus tard la même année et début 1963, Syd devient fan de The Beatles et de The Rolling Stones, et commence à écrire des chansons.
Formé en 1964, le groupe qui sera plus tard connu en tant que Pink Floyd voit son lineup et son nom changer de nombreuses fois. Parmis les anciens noms, on compte The Abdabs, Sigma 6, The Meggadeaths... Quand Syd les rejoint en 1965, ils se font appeler The Tea Set, et, après un énième changement de nom, il propose le nom The Pink Floyd Sound, qui devient plus tard The Pink Floyd Blues Band et finalement The Pink Floyd (lineup : Syd Barrett (chant, guitare), Bob Klose (guitare), Roger Waters (basse, chant), Nick Mason (batterie, percussions), Richard Wright (claviers, chant)).
Le groupe joue principalement des chansons de rhythme and blues et commencent plus tard à se faire payer pour leurs performances. En mars 1966, alors qu'ils jouent au Marquee Club à Londres, ils se font remarquer par Peter Jenner qui, avec son ami Andrew King, devient leur manager. Ils achètent pour le groupe pour £1000 d'instruments et de matériel et les aident à se faire connaître sur la scène musicale underground de Londres. Les Pink Floyd se font rapidement connaître pour leurs longues instrumentales et leur utilisation de lumières colorées durant leurs concerts.
Alors que le temps passe, ils jouent de moins en moins de chansons de rhythm and blues et de plus en plus de chansons écrites par Syd.
En 1967, le groupe signe chez EMI, qui sort leur premier single, Arnold Layne, le 10 mars de la même année. Bien que la chanson soit bannie par plusieurs radios à cause de ses références au travestissement, elle se classe quand même numéro 20 au Royaume-Uni.
Après la sortie de leur deuxième single, See Emily Play, en juin 1967, Pink Floyd jouent plusieurs fois dans l'émission Top of the Pops sur la BBC. C'est aussi à peu près à cette époque que les autres membres remarquent des changements dans le comportement de Syd. Son utilisation fréquente du LSD le fait se distancer du groupe et du reste du monde.
En août 1967, Pink Floyd sortent leur premier album studio, The Piper at the Gates of Dawn, qui se classe numéro 6 sur les UK charts.
Alors que la popularité du groupe continue d'augmenter, l'état de Syd devient de plus en plus inquiétant. Ses crises de dépression nerveuse force le groupe à annuler plusieurs concerts dont leur performance au National Jazz and Blues Festival.
Pendant que le groupe est en tournée aux Etats-Unis, l'état de Syd se dégrade encore plus: parfois, durant leurs apparitions à la télévision, il ignore les questions des animateurs et regarde dans le vide, et, lors de leur performance dans l'émission de Pat Boone, il refuse de mimer le chant de See Emily Play.
Après un retour en urgence au Royaume-Uni, Pink Floyd font la première partie de Jimi Hendrix en Angleterre. Les mauvaises performances de Syd durant cette tournée font que les autres membres du groupe décident d'inclure le guitarist Daivd Gilmour au lineup du groupe et que Syd ne ferait plus qu'écrire pour le groupe. Frustré par cette décision, Syd décide d'écrire des chansons qui seraient impossible à apprendre pour les membres du groupe. Peu après cela, ils décident de le renvoyer.
Inquiets de comment Syd réagirait à la nouvelle, les membres de Pink Floyd attendent avant de lui dire qu'il ne fait plus parti du groupe et ne l'annonce publiquement qu'en avril 1968, bien que la décision ait été prise fin janvier.
Après l'annonce, Syd commence à travailler sur un album solo mais ne se montre pas publiquement. Cependant, l'enregistrement de l'album est interrompu en juillet 1968 après que Syd se sépare de sa copine et se fasse admettre en soins psychiatriques à Cambridge.
Bien qu'il ne se soit pas réellement remis, il retourne en studio pour finir son album début 1969. Ses anciens camarades de Pink Floyd, David Gilmour et Roger Waters participent à l'enregistrement de l'album, avec David Gilmour à la basse et Roger Waters qui produit quelques chansons.
L'album, appelé The Madcap Laughs, sort en janvier 1970.
Peu après la sortie de l'album, Syd commence à enregistrer son deuxième album, avec David Gilmour en tant que bassiste et producteur, Jerry Shirley à la batterie et Richard Wright au clavier.
Le seul concert que joue Syd entre 1968 et 1972, a lieu durant le Music and Fashion Festival à l'Olympia Exhibition Hall le 6 juin 1970.
Barrett, son deuxième album, sort en novembre 1970.
En février 1972, aux côtés de Jack Mocnk à la basse et Twink à la batterie, et sous le nom The Last Minute Put Together Boogie Band, Syd joue quelques concerts à Cambridge. Ils forment ensuite le groupe Stars. Leurs performances incluent des chansons de Pink Floyd écritent par Syd et des chansons de ses albums solos.
Par la suite, Syd commence à vivre reclu, la plupart de ses contacts avec d'autres gens ayant lieu durant les visites de sa soeur ou quand il va voir son manager pour récupérer ses royalties.
En aout 1974, son manager l'emmène au studio d'Abbey Road pour tenter de le faire enregistrer un nouvel album. Après avoir enregistré onze pistes, Syd vend les droits de ses albums solos au label et décide de quitter l'industrie de la musique pour de bon.
Il reste vivre à Londres pendant quelques années durant lesquelles des groupes, dont les Sex Pistols et The Damned, essayent de l'engager en tant que producteur d'album, sans succès.
En 1978, Syd manque d'argent et retourne vivre chez sa mère à Cambridge.
A partir de ce moment, il reste éloigné de l'oeil du public, bien que des fans et journalistes vont parfois à Cambridge pour essayer de le trouver. Il se remet à utiliser son nom de naissance, Roger, et passe la plupart de son temps à peindre et jardiner. Il n'a presque pas de contact avec d'autres gens, sa soeur étant une fois encore une des rares personnes à qui il parle. Il est aussi dit qu'il n'aime pas parler de son passé musical.
Sa première intéraction avec le publique après des années, et sa dernière, a lieu en 2002, quand il signe 320 copies du livre du photographe Mick Rock Psychedelic Renegades, qui comporte plusieurs photos de Syd.
Alors que le temps passe, sa santé commence à décliner et il souffre d'ulcères à l'estomac et de diabète de type 2.
Il meurt d'un cancer du pancréas le 7 juillet 2006, chez lui à Cambridge.
En octobre 2008, la ville de Cambridge organise une série d'évènements pour célébrer la vie de Syd et son art, The City Wakes.
Repose en paix, Syd Barrett ! ]